I needed to make an elegant thank you card. Birthday Bouquet DSP is a great choice for the job. It has a coordinated stamp set !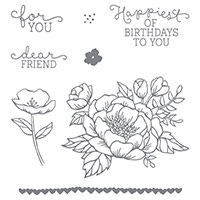 My " Birthday Blooms" stamp set hasn't arrived yet so I had to use substitute.
This is the retired hostess set in Australia but it is still available to buy in Japan.
And guess what ! All the Stampin'Up! stamps in Japan come in photopolymer.
Even the one it only comes in rubber or cling-rubber in Australia or the rest of the world, like everyone's all time favourite " Lovely as a Tree " !!
I stamped the image with Blushing Bride ink on Blushing Bride card stock.
I coloured the image with a blender pen. Blender pen is a perfect tool for a colouring challenged like me.
"Thank you " is from Endless Thanks stamp set.
This is my favourite embellishment at the moment. Using a pearl trim from the Love Blossom Embellishment Kit.
I will probably recreate the same design with a coordinate stamp set when I get it. But I really like how this card turn out.
Here's the deal: for every $90 AUD you spend (before shipping and handling), you get a FREE Sale-A-Bration product. That means it's the perfect time to purchase those products you've had your eye on while earning more products for free. Contact me how !